Flight Across the US and Bahamas

April 10 - 26, 2008
Trip blog with live satellite tracking here
Track us by RADAR with FlightAware
Time-lapse movie of the entire flight
Picture Gallery 1 - California to the Bahamas
Picture Gallery 2 - The Bahamas back to California

Three friends and I flew across the country in my new plane. Our route is shown below in purple. Click on the picture for a larger image: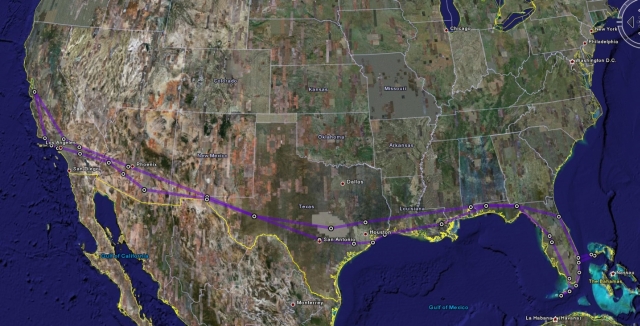 Highlights
- Flying into the second biggest air show in the US - Sun 'n Fun.
- Three days of tropical fun, motor scooters, and nightlife in Key West
- Five days of SCUBA, beaches & nightlife in the Bahamas
- Overnights/Nightlife in the following cities:
Phoenix, AZ
Austin, TX
Tampa, FL (near the air show)
Key West, FL
Freeport, Bahamas
New Orleans, LA
Tucson, AZ
West Hollywood, CA
- A visit to the Titan Missile Museum in Tucson, AZ.
The Sun 'n Fun Airshow
This is one of the biggest fly-in airshows in the country, typically attracting about 5000 aircraft. The airport gets so busy that special arrival procedures are published, which require that aircraft not broadcast on the radio and that more than one plane land on a runway at the same time.
Here is a link to the graphical arrival procedures, and here is a link to the FAA NOTAM.
Freeport, Bahamas
Here are some of the dive shop options:
A Rough Itinerary
4/10 - Thursday: San Jose - Phoenix (3 1/2 hours)
4/11 - Friday: Phoenix - Austin TX (5 hours flight time plus one stop at FST)
4/12 - Saturday: Austin - Lakeland, FL (6 hours flight time plus one stop at 1R8)
4/13 - Sunday: Check out the air show
4/14 - Monday: Fly to Key West (1 hour 45 minutes)
4/15 - 4/16: Relaxing in Key West
4/17 - Thursday: Key West - Freeport, Bahamas (1 hour 50 minutes)
4/18 - 4/21: Relaxing in the Bahamas
4/22 - Tuesday: Freeport - New Orleans (5 hours flight time plus stops at PBI and 28J)
4/23 - Wednesday: New Orleans - Austin (3 hours 15 minutes)
4/24 - Thursday: Austin - Tucson (5 1/2 hours flight time plus 1 stop in PEQ)
4/25 - Friday: Tucson - Santa Monica, CA (3 hours 15 minutes)
4/26 - Saturday: Santa Monica - San Jose (2 hours 10 minutes)
Trip blog with live tracking here
Last modified: 05/11/2012