Hawaii - October, 2005
Selected video clips (WMV) here

I joined my friends Jerry and Nico in Hawaii for our fall adventure. We spent about a week on the Big Island and did a lot of diving, visited the Kilauea volcano, and went to the top of Mauna Kea. We then spent 4 days on Oahu.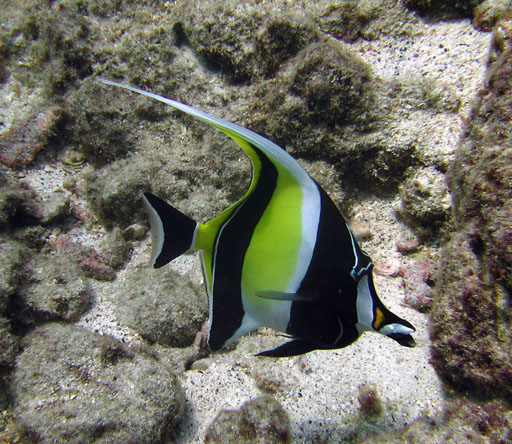 Moorish Idol
The diving in Kona was quite good. There was a wide variety of fish and hard coral, and the visibility was excellent. The water was a tolerable 82 degrees. We did a mix of boat and shore diving. The highlights were diving in a few lava tubes, having two chance encounters with wild dolphins, and diving with the manta rays at night.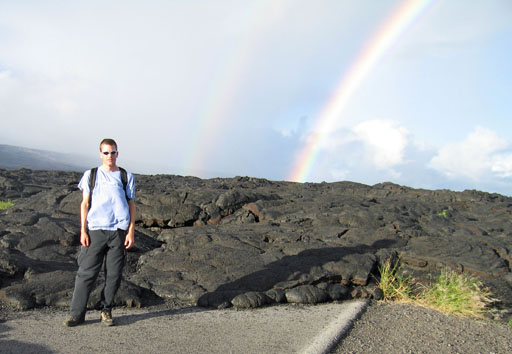 A lava flow engulfing a road
The geological features of the island were fascinating. There were old and new lava flows all around the island. One of the highlights of the trip was a visit to the Kilauea active volcano. Check out the volcano status here. We drove around the Kilauea crater, walked through the Thurston lava tube, and hiked across the lava to get to the viewing point for where the molten lava was flowing into the ocean. We stayed there until after dark and were quite impressed to see the glowing lava.
Another adventure on the Big Island was driving across Saddle road and up to the peak of Mauna Kea, at an altitude of about 13,800 feet. The view from above the clouds was quite spectacular.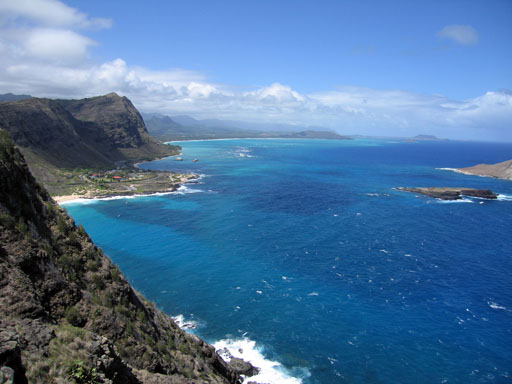 Waimanalo Bay in Oahu
We spent a few days in Oahu also. We had a chance to visit the USS Arizona memorial in Pearl Harbor, the USS Missouri, and the USS Bowfin submarine.
I also hiked to the top of the Diamond Head crater, to the top of Makapuu point, and also wandered around Waikiki.
Selected video clips (WMV) here
Last modified: 05/11/2012