Belize - June, 2008

This June, the Three Amigos (and amigo-elect Dan) had planned to travel to the small Central American country of Belize for 10 days of fine diving and merriment. Unfortunately, what we got was the season's first named tropical storm with hurricane-force winds, and 7 days of crappy weather.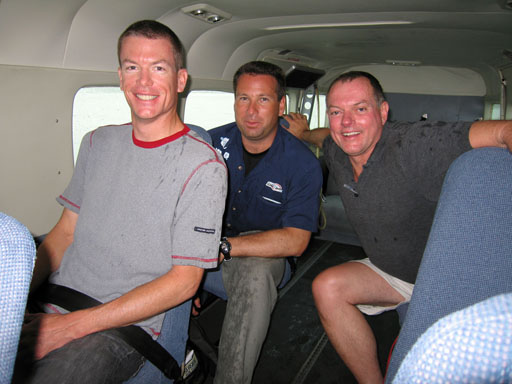 Our first night was when the storm was at its worst. The winds and rain were so bad that the wind was blowing the rain under the door to the balcony and caused our room to flood with water.
Coincidentally (or perhaps not?), our last visit to Belize in 2000 followed Hurricane Keith by a few days. I think we'll strike Belize from our list!
We spent the first 5 1/2 days on the island of Ambergris Caye and stayed at Ruby's Hotel on the beach. The first few days were a washout (literally) due to the storm: we just ate, drank, internetted, drank, and sulked. Finally we were able to get a day trip of diving to Turneffe Atoll, and another two days of local diving after that.
On the 6th, Dan returned home, and the Three Amigos took a water taxi to the next island to the south - Caye Caulker. On Caye Caulker, which is even smaller than Ambergris, we stayed at the Barefoot Beach Belize lodge.
Unfortunately, the high winds and clouds persisted and prevented us from diving. Once we read the forecast for more of the same, we pulled the plug and headed back a few days early.
Last modified: 05/11/2012