Florida - May/June 2003

The late spring/early summer time is just not complete without a "Three Amigos" dive trip. This time the destination was south Florida - specifically the Florida Keys.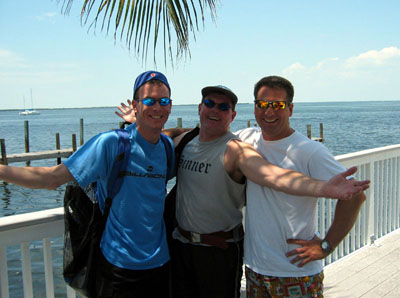 Although this wasn't a true, authentic, full and complete "Three Amigos" dive trip, since one of us (me) couldn't dive much due to a cold, it was still a blast. Marco joined Jerry, Nico, and me on this trip.
We met up in Palm Beach and gathered all the gear into the minivan and made it to Key Largo early enough the next day to make two afternoon dives with Aqua Nuts.
The next few days we worked our way down the Keys with stops in Tavernier and Marathon for more diving. Finally, we made it to Key West and stayed with friends Rick and Susan.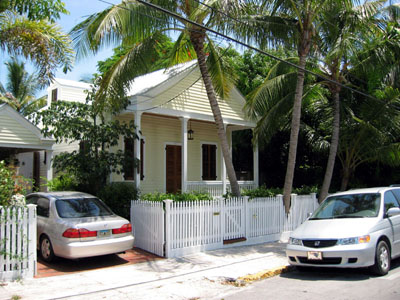 Rick and Susan's place in Key West
Key West was a blast. Whether it was watching the sunset from the tallest rooftop on the island or having dinner at one of the many excellent restaurants there, the focus was definitely on simple pleasures!
One of the interesting experiences we had was volunteering for the pilot whale rescue effort. There had been a mass beaching of about 50 pilot whales in Florida a while back, and there were five left in captivity - being nursed back to health. We had an opportunity to get in the water with the whales and help the biologists draw blood from one of them.
And speaking of stranded mammals... A group of us went out on the boat to see Key West from the ocean and watch sunset on the water. Perhaps fate was trying to tell us something when Guest Captain Nico had a close encounter with a sandbar. While heading back to port that night, the route was a bit unfamiliar and we ran solidly aground several miles offshore. We all got out and tried to push the boat off but no luck, so we had to wait until high tide the following morning to float us off.
All in all, a very fun trip!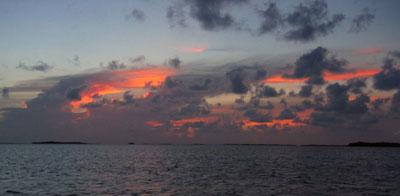 Last modified: 05/11/2012